Teen held over 'satanist' attack on Great Yarmouth church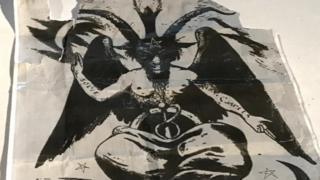 A teenager has been arrested after satanic images were left at the altar of a Catholic church.
The incident at St Mary's church, Great Yarmouth, Norfolk, on Tuesday, was caught on CCTV.
Footage showed a man lighting small fires before attempting to burn a sacred icon he took off the altar and put a picture of a satanic figure in its place.
A 17-year-old is in custody and is due to be questioned, Norfolk Police said.
It previously said it was investigating the incident as a religiously-motivated hate crime.