#Takeasophie cancer campaign snowballs for Norwich girl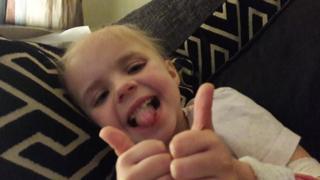 Hundreds of people have been "sticking their tongues out at cancer" in support of a four-year-old girl who was diagnosed with the disease.
Sophie Taylor, from Norwich, will undergo surgery on Wednesday to lose part of one of her legs.
The #takeasophie campaign was set up on social media after her dad Alex took a photo of her sticking her tongue out.
Supporters have included celebrities, sports people, chefs and schools. Her family said it had been "brilliant."
The #takeasophie campaign has attracted attention on Facebook, Twitter and Instagram.
Those who have posted photos of themselves sticking their tongues out have included BBC Countryfile's Adam Henson, model and TV presenter Katie Piper and former Olympic swimmer Duncan Goodhew.
Sophie, who has sister Evie and brother Connor, and her family were told she had tumours in her leg and the cancer had spread to her lungs in January.
She has undergone chemotherapy at Addenbrooke's Hospital in Cambridge and will have the amputation at the Royal National Orthopaedic Hospital at Stanmore, London.
Her dad Alex said: "We knew we couldn't change anything medically but we wanted to make sure Sophie could have as much fun as possible while she goes through her battle.
"We don't know how much she fully understands but she knows a photo of someone sticking their tongue out is 'taking a Sophie' and they are supporting her."
Mr Taylor, 30, who is married to Kirsty, said their sporty daughter Sophie, who loves football, will have to have a prosthetic leg.
They said money raised from the Take a Sophie merchandise on their website will help fund her future prosthetics and help other children with cancer.