US Lakenheath jets 'flew into conflict' with civilian plane over Norfolk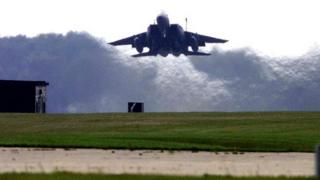 Two US military jets "inadvertently flew into conflict" with a civilian plane over the UK, a report says.
The F15s, from RAF Lakenheath in Suffolk, encountered a B350 over Marham in Norfolk on 6 November.
The Airprox report said it was caused by the US pilots "having not fully assimilated earlier traffic information".
The report said RAF air traffic control also gave incorrect information to the jets during the incident.
The incident was reported to have happened at about 11:09 GMT.
Airprox said the B350 was a civilian aeroplane, but it did not have any information about where it was flying from and to.
Its pilot reported that the jets came within about 500ft away from him at the closest point.
Airprox said after initial reports that the jets were close by, air traffic control, based at RAF Swanwick in Hampshire, later radioed the US pilots but gave them incorrect information about the direction the B350 was heading.
The report noted that a contributory factor was the "high" workload the air traffic controller had, as she was also dealing with two RAF Typhoons flying in Lincolnshire.
However, the report said the F15s had already made the turn which brought the three planes closer together.
Airprox said the US pilots then flew away from the B350 and "prevented a risk of collision".
It concluded it was a Category C incident, which meant there was no risk of collision.
A USAF spokesman said: "We are confident the risk of Airprox events is minimized by our continuous training, consistent focus on flight safety and our direct communication with Royal Air Force and civilian air traffic control services."
An RAF spokesman said "there was no risk of a collision during this minor incident".