Pet dog bitten by adder snake in Bradenham back garden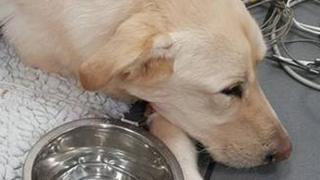 A pet dog was left fighting for its life, and may yet lose a leg, after it was bitten by a snake in a back garden.
Owners David Harper and Tilly Morgan were at a relative's house in Bradenham, Norfolk, when their dog Charlie came limping in.
They said at first they thought he had strained something but after going to a vet, it emerged he had been bitten by an adder.
Charlie, a German Shepherd cross, has been in intensive care since 24 April.
Ms Morgan, who lives with Mr Harper in Yaxham, said Charlie may lose one of his legs because the skin has started to die.
In a Facebook post, Mr Harper warned other dog owners to be "extra vigilant".
He said: "Now ordinarily (apparently) adders' bites are not lethal to dogs, but my dog has been fighting for his life for a week now.
"Thankfully it looks like he's turned a corner and although he's not out of the woods yet, he's definitely making steps in the right direction."
Charlie is being treated at Swayne and Partners in Bury St Edmunds, Suffolk.