Dolphin stranded at Great Yarmouth 'had rubber glove in stomach'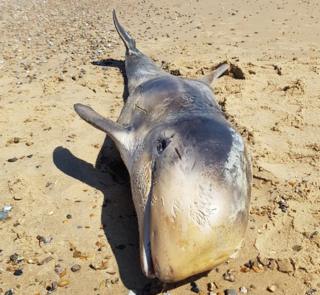 A dolphin washed up on a Norfolk beach had ingested a fragment of a rubber glove, post-mortem tests found.
The dead juvenile male Risso dolphin was discovered on Great Yarmouth South Beach on Sunday.
The animal was thin and showed no evidence of feeding - said to be the "most significant factor" in its death.
Rob Deaville, who led a dissection, added the thumb of a rubber glove in the stomach was "interesting but incidental".
"It hasn't been a causal factor in the animal's death," added Mr Deaville, a marine biologist and project manager of UK Cetacean Strandings Investigation Programme (CSIP).
"At the moment the poor nutritional condition is the most significant factor. It's lost a lot of muscle mass. It's actually pretty thin."
The said the dolphin was "out-of-habitat" and was likely to have died on the beach after becoming stranded.
"There is probably a chance [the rubber glove fragment] was ingested close to the shore, in that abnormal habitat," he said.
CSIP said the Risso was the 241st stranded in the UK since CSIP began in 1990, but it was unusual as the first Risso stranded in the southern North Sea since one was found in Kent in 1963.
"The Risso's dolphin is normally resident in deeper, offshore waters and the southern North Sea region can therefore be considered to be an abnormal habitat for this species," a spokesman said.
The Zoological Society of London (ZSL) Science live-tweeted the three-and-a-half hour dissection on Thursday.
It posted images throughout, including of the lungs which it said indicated hypostasis - accumulation of blood - confirming the dolphin died after stranding.
Risso dolphin
Risso dolphins have a preference for deep, oceanic waters and are generally seen in groups of 10 to 50 animals
They are widely distributed and can be found in temperate and tropical zones of all the world's oceans
They have a bulbous forehead and peculiar markings due to white scarring from other Rissos and their major prey, squid. Older animals can have a white head because of this
Their mouth slopes up to look like a smile
Source: Whale and Dolphin Conservation