Great Yarmouth school head excludes eight pupils on first day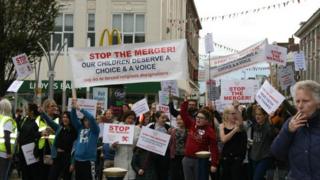 A head teacher excluded eight pupils on his first day of being sent in to a Norfolk school that is merging with an academy known for its strict rules.
Iain Mackintosh took the action on Monday at Trafalgar College (TC), which will join with Great Yarmouth Charter Academy (GYCA) in September.
They were excluded by Mr Mackintosh - GYCA's ex-deputy head - for bad behaviour, a school spokesman said.
He said TC had "its own rules" and would not adopt GYCA's strict ethos.
Academy chain Inspiration Trust operates both sites and following the Department for Education's [DfE's] approval last week they will be run as one school from the autumn.
The Trust took over GYCA last year - a school which had the county's worst GCSE results - and implemented controversial strict rules to improve performance.
At the time they included pupils being in bed by 21:30 and mobile phones being banned.
In a statement, an academy spokesman said the eight children were given fixed-term exclusions for "repeated poor behaviour, refusing to follow instructions, and rudeness towards staff including swearing".
The BBC understands some of the excluded children had special educational needs (SEN), but the Trust said it could not confirm how many.
Aside from the strict rules, a number of TC's parents are against the government-backed merger over plans to impose GYCA's Christian values at the secular free school.
Louise Alderman, of campaign group Keep Trafalgar College Separate, said: "The management system that's come in at Trafalgar is just one issue which will be reported to Ofsted.
"Our major issue is with the DfE allowing the religious change to our school which there is no support for," she said.
The DfE approved in principle TC's status as a school with "a Christian character" when it green-lit the merger.