Norwich City Council Conservative election fraud probe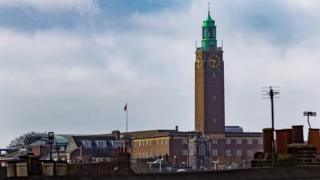 Two men have been arrested on suspicion of election fraud relating to a Conservative candidate in the recent local elections.
Papers with false signatures were submitted for Norwich City Council's Mancroft ward, it is alleged.
The men, 21 and 28, being questioned by Norfolk Police are from the Norwich area and have been suspended by the local party.
The Conservative candidate Iain Gwynn is not believed to be one of them.
The men have been arrested on suspicion of conspiring to submit nomination papers containing fraudulent signatures.
A Norwich Conservative Association spokesman said: "The individuals concerned have been suspended pending the outcome of a police investigation."
The Labour Party took the seat from the Greens with 1,248 votes giving a majority of 77, while the Conservatives polled 373 votes.
The council is Labour-controlled and has no Conservative councillors.