Horsey beach seal, injured by plastic netting, rescued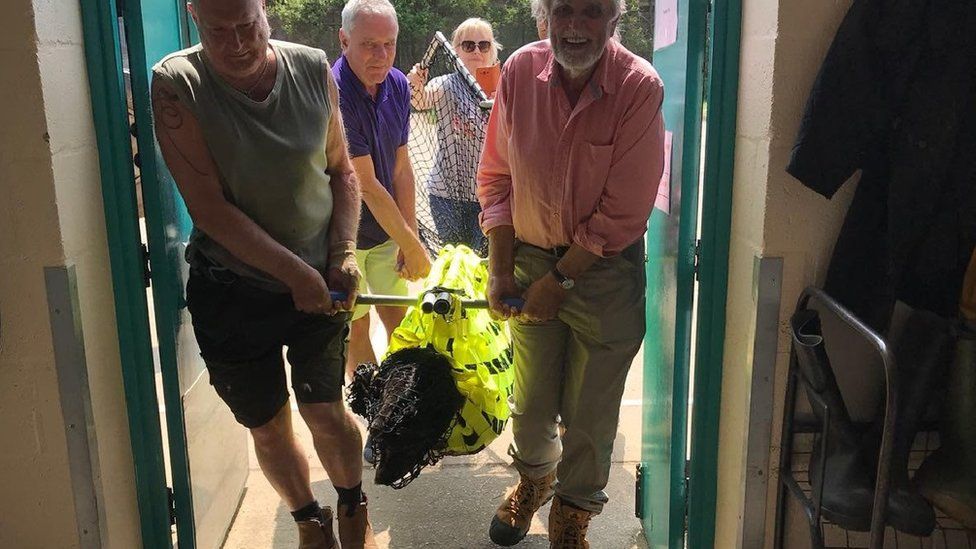 A grey seal, which suffered "horrendous" injuries when it became entangled in discarded plastic netting, has been rescued from a Norfolk beach.
The Friends of Horsey Seals group found him with 10ft (3m) of fishing paraphernalia wrapped around his neck.
The RSPCA vet removed the netting and put him on antibiotics.
Alison Charles, manager at East Winch, said: "This is a horrendous injury and the poor seal has been fighting for his life.
"He's extremely emaciated - probably half the weight he should be. When he arrived here, he was exhausted and wouldn't move.
"We didn't think he would make it through the night."
She said the seal has started eating again, though they are taking it "one step at a time".
Ms Charles added: "This year we've already had four seals admitted due to injuries from carelessly discarded plastic."
This year the seals are being given names related to Indian takeaways, with the wildlife centre's latest admission Downham Tandoori, joining Ladoo, Raita and Kulfi.
The exception to the naming convention was Frisbee, a female seal who grabbed the headlines when she was released back into the wild at Horsey Beach by RSPCA East Winch after recovering from a deep neck wound caused by a plastic frisbee toy.
Related Internet Links
The BBC is not responsible for the content of external sites.