Bird builds nest on Norfolk primary school wellie rack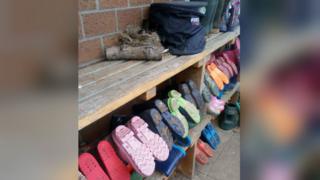 An expectant mother went to great lengths to get her children into her chosen school - by giving birth in the playground.
The blackbird chose to make her nest above a rack of Wellington boots near the door of Holly Meadows Primary School near King's Lynn, Norfolk.
The area was cordoned off and four chicks have now hatched.
Teacher Emma Baker said they were "surprised the blackbird had chosen such a noisy, busy location".
"She really doesn't seem bothered by the noise or the children's presence," she said.
"We were all very excited... when four eggs appeared in the nest and then later on, four little baby birds."
She said the "nesting journey" of the bird was "watched with fascination" by the pupils.
"The children have been so respectful of her, tiptoeing past the nest and playing away from the wellie rack area," Ms Baker added.
The blackbird and her nest are being used as part of nature lessons for the children and teachers are keeping an eye on the new family during half-term.