High Court action against Great Yarmouth school merger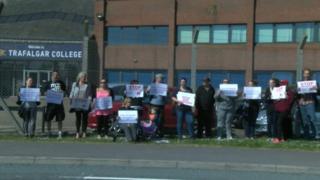 A decision by the Department for Education (DfE) to merge two schools is to be challenged in the High Court.
The amalgamation of Trafalgar College and Great Yarmouth Charter Academy (GYCA) was approved by the DfE in May.
A legal case brought by a Trafalgar College parent contests the DfE's approval in principle for the secular free school to be re-designated as a one with "a Christian character".
The hearing will take place in July.
Lawyer Dan Rosenberg of Simpson Millar solicitors, acting for the Trafalgar College parent (who wished to remain anonymous at this stage), said he hoped the decision to merge the schools could be overturned.
Both schools are run by the Inspiration Trust and GYCA is already a school with a Christian ethos.
Trafalgar College free school was founded by the Inspiration Trust on Thamesfield Way in Great Yarmouth in 2016 with about 150 pupils.
It is two miles away from the Charter Academy and the merged schools of 1,500 pupils would eventually all attend on an expanded Charter Academy site.
The merger was put forward following a public consultation after the Trust said pupil numbers locally were not as high as predicted.
On the High Court action, a Trust spokesman said: "We believe that all decisions have been made properly and in the best interests of the future education of children in Great Yarmouth.
"Bringing the two schools together remains the best long term approach for the town."
Protestors against the merger had previously said their major issue was with the Department for Education "allowing religious change to our school which there is no support for".
Campaigner Louise Alderman, also said the argument that there was not enough demand for two separate schools was spurious.
The Trust is not a defendant in the High Court action.
The contestant has been allowed what is known as a "rolled-up" judicial review hearing which lasts one day.