Norfolk's Paston family treasures on display at museum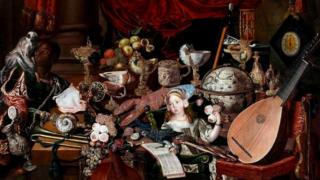 Treasures in a painting depicting the wealth of a Norfolk family on the brink of disaster are the centrepieces of a new exhibition.
The picture shows rare items collected in world travels by the Paston family.
Two silver flagons, a Strombus shell cup, two nautilus cups and a perfume flask are together with the painting for the first time in 300 years.
The still-life reveals a dramatic and tragic story, Francesca Vanke, curator at Norwich Castle Museum, said.
The painting displays gold and silver, musical instruments, fruits and flowers, in addition to portraits of a young girl and an African youth.
The treasures depicted by the unknown artist were owned in the 17th Century by the Pastons - a famous Norfolk family whose country seat was Oxnead Hall outside Norwich.
Musical instruments, rare timepieces, a globe, jewels, miniatures and sculptures replicating riches featured in the painting are also on show.
Researchers have also deciphered sheet music shown in the painting which will be played during the exhibition. It is open until 23 September at Norwich Castle Museum.
The Pastons and their collection were doomed and the painting proves prophetic. The artist uses flowers, fruit, clocks and a guttering candle to symbolise time, vanity, and death, Ms Vanke said.
The Pastons over-reached themselves in spending and ambitions and within less than a century were bankrupt.
By the 1730s the collection was sold, the male line had died out and their magnificent home, Oxnead Hall, where they once entertained King Charles II, fell into disuse.
The Paston family came to prominence in royal and commercial circles as lawyers and landowners during the Wars of the Roses in the 15th Century.
Upwardly mobile, they made advantageous marriages and bought more land with money earned through royal patronage serving the Tudors and Stuarts.
The famous Paston letters, discovered and published in the 18th Century, document this period.
Indirect descendants the Paston-Bedingfelds of Oxburgh Hall provided some items from the original treasure still surviving.