Sergiusz Meges inquest: Norwich clubber 'confessed' killing homeless man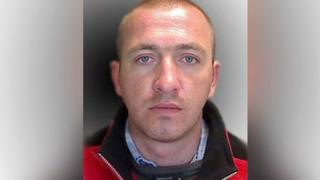 A man confessed to a stranger on a night out that he was going to be "banged up soon" for killing a homeless person, an inquest has heard.
Sergiusz Meges, 29, was found dead in a Norwich underpass on 10 June 2015.
Lee Copeland told Norwich Coroners' Court that a week later a man had asked him for a lighter outside a club before telling him "You know the guy in the underground? I killed him."
Two men were arrested over Mr Meges' death but they faced no further action.
When the body of the Polish national - described as a "chronic alcoholic" by his GP - was found he had fractured ribs on his left side and no defensive injuries, possibly as he was "severely intoxicated" at the time, the court heard.
A post-mortem said his cause of death could have been either a fall or a "kick, stamp or possibly a forceful punch to the left side of the lower chest" but may also have been a fall.
Mr Copeland told the inquest he was on a night out in the city on 17 June 2015 when the man - who had been drinking - approached him and asked if he was having a good night.
The man told him: 'I'm making the most of it as I will be banged up soon. You know the guy in the underground? I killed him. I kicked him in the head'.
"I asked him why he had done that. He said because he was pestering him for money."
Mr Copeland who said he had also been drinking waited until later that day to tell police as "I didn't know whether to believe him".
He was unable to pick out the man at an identity parade at a later date.
The inquest is expected to last two days.