Seal found 'septic' tangled in nylon line on Norfolk beach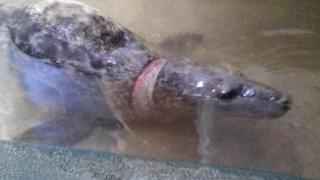 An "extremely poorly" juvenile seal had to be rescued off a Norfolk beach after it became entangled in a nylon line.
The seal was found by a lifeguard on Saturday at Mundesley looking "fed up" and was carried about half a mile up the beach and taken to an RSPCA centre.
The line has since been taken off but the ring left around its neck had turned septic, according to Seal and Shore watch volunteer Alison Cramp.
Mrs Cramp added that his recovery will be an "extremely slow process".
She said that the seal - nicknamed Puri - was dehydrated, had probably been on the beach for a number of days and she knew she had to get it off the beach.
"He was in so much pain that he probably came onto the beach and wanted to die," she said.
"The look on his face was horrible - he looked up at me and made a growling noise but it was like 'leave me alone, I'm fed up'.
"The main entanglement of netting was to the side of it going onto its neck. It must have rolled and rolled continually in the sea trying to get it off but it's getting tighter and tighter.
Mrs Cramp said the lifeguard and his friend were "lifesavers" for carrying Puri to the car from the beach and from there it was taken to East Winch RSPCA Wildlife Hospital, who have given it painkillers and antibiotics.
"It's going to be an extremely slow process because his lethargy and everything else but I know the wildlife centre will do everything in their power to get him in the sea," she said.