Bombing thief Chris Parker's mother sentenced for fraud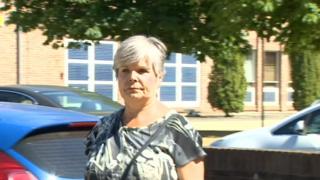 The mother of a homeless man jailed for stealing from victims of the Manchester bombing has been sentenced for taking nearly £4,000 from a charity.
Jessica Parker, 58, was given a eight-month jail sentence, suspended for two years, for stealing from Sea Palling Voluntary Rescue Service in Norfolk.
The former lifeboat charity secretary had earlier admitted 10 counts of fraud by abuse of position.
Her son, Chris Parker, was jailed after initially being hailed a hero.
He was sent to prison for more than four years in January at Manchester Crown Court after admitting theft and fraud.
Following the Manchester bombing, he appeared on TV saying how he had helped victims.
More than £50,000 was raised online for him, with the money later returned to donors.
'Dishonest secretary'
His mother Jessica Parker, of Corton Road, Norwich, was sentenced at the city's crown court on Tuesday, where she was ordered to repay £3,847 within 28 days.
Judge Stephen Holt said: "Their real worry is in future the public will remember this story and be careful about donating funds.
"I don't think the public have anything to fear and they can continue to support this charity now you, a dishonest secretary, have been removed."
He said Parker reacted in an "aggressive, unpleasant way" when challenged by other volunteers.
The court heard Parker had made payments to herself including cheques in 2016, with second signatories trusting her, before a new treasurer discovered irregularities.
Defence barrister Danielle O'Donovan said Parker was "deeply ashamed" and had suffered a "near breakdown because of stress anxiety".
She also said she had been in a "difficult, mentally abusive relationship with a man".
Ms O'Donovan said the money was used for ordinary purchases and Parker would repay it with money borrowed from her sister.
The court heard Parker had previous convictions for deception with intent to defraud and false accounting.