Construction Industry Training Board plans move to Peterborough HQ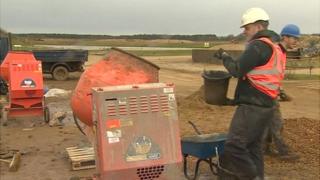 The construction industry's main training body has announced plans to move its headquarters from a site in Norfolk to Peterborough.
The Construction Industry Training Board (CITB) said the move would "impact" 133 jobs and affect sites in Norfolk, London and Leicestershire.
Sir Henry Bellingham, Conservative MP for North West Norfolk, called the decision a "betrayal".
But chief executive Sarah Beale said: "This is a necessary step for CITB."
The move from the CITB's existing HQ at Bircham Newton, which is currently under consultation, is expected to be completed by 2020.
The CITB, funded by a levy on building firms, announced its Peterborough plans following a government review last November.
Its proposal to move and no longer carry out in-house training was described at the time by union Unite as a "hammer blow for the construction industry and for the workers at the CITB".
Sir Henry said CITB the move to a rented office 50 miles away would lead to a lot of disruption and distraction for senior management.
"This is the betrayal of a local community and people are going to be very, very cross," he said.
Ms Beale said: "The creation of a single head office will bring us closer to our customers and create the right environment to ensure that CITB delivers the 'levy in, skills out' focus that industry and government have demanded."
Although it has not yet found a new building, a spokesman said it hoped to sign a lease "later this year" and complete the move by January 2020.
The proposal was still in the consultation stage, he added, and the "impact" on more than 130 jobs and three of its 11 sites was part of that process.