Holly Greenhow: Girl with cerebral palsy gets £15m NHS payout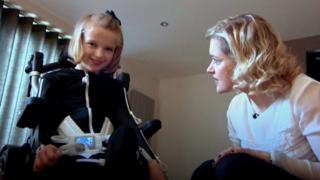 A girl whose brain was starved of oxygen before her birth at a hospital has been awarded more than £15m in damages from the NHS.
Holly Greenhow, 12, has had cerebral palsy since she was born at Hinchingbrooke Hospital in 2005.
Her family's lawyers sued the NHS trust which runs the hospital in a battle to help Holly "live independently" in the future.
The High Court approved a £6.4m lump sum and further annual payments.
Alex Antelme QC, for North West Anglia NHS Foundation Trust, told the court it was a "tragic case" and the impact on Holly was "self-evident".
Judge David Pittaway QC awarded the "appropriate" settlement at the court last week, which lawyers said had a lifetime value of £15,480,000.
Stem cell treatment
Holly was born at the hospital near her home in Huntingdon, Cambridgeshire, on 18 November 2005 and diagnosed with cerebral palsy, leaving her with communication issues and other disabilities.
Despite that, she has modelled for fashion retailers Boden and Tesco, which her mother, Fiona Greenhow, said "gives her an opportunity to do something different".
Last year her family paid £10,000 for pioneering stem cell treatment in the US, which Mrs Greenhow said had made a "huge improvement" to Holly's life.
The trust has agreed to pay Holly a £6.4m lump sum, along with annual payments to cover the costs of her care for life.
Those payments, agreed on the basis of 75% liability, will start at £110,000 a year and rise to £200,000 a year after she turns 19.
The £15m figure is based on Holly living to aged 60, her mother said.
Dr Kanchan Rege, medical director at the trust, said: "We can confirm that the court has recently approved a settlement relating to a long-running case involving a birth injury at Hinchingbrooke Hospital.
"The care received was investigated in detail but due to patient confidentiality we are unable to provide further information about the case."
Speaking after the High Court decision, Mrs Greenhow said it was "quite a surreal feeling" the case was concluded after 12 years.
However, she added: "No amount of money or apology will ever bring back what we should have had with Holly."