Sea Palling: Three people saved from beach rip tide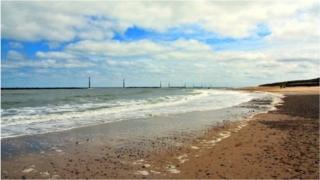 A teenage girl was resuscitated by lifeguards after being rescued from a rip tide on a Norfolk beach.
Coastguards were called to Sea Palling on Saturday after reports of rip tide casualties.
They found the teenager, a man with chest pains and a child who had swallowed seawater.
Pete Lovell, from the coastguard, said an ambulance took the girl to hospital and all three individuals would "recover fully".
"There were red warning flags on the beach where it was not safe to swim and lifeguards had put up red and yellow flags in the area they were monitoring," he said.
"People need to know the rules of the beach and what these flags mean to stay safe especially now in the school holidays.
"Please be aware of tides, rips and most importantly lifeguard flags when visiting the beach."