Norwich Pride parade creates 'rainbow river'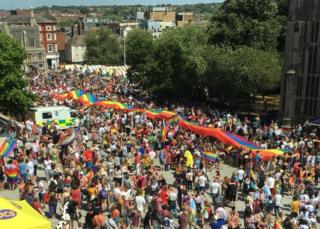 A 50m-long flag made a "rainbow river" through Norwich as the annual Pride parade made its way through the city.
Norwich Pride - which is in its 10th year - saw an estimated 10,000 people take to the streets in a celebration of the city's LGBT community.
Organiser Michelle Savage described it as an "absolutely gorgeous day in glorious technicolour".
"I feel we've hit the target - emotionally, morally and politically."
"Norwich has come out as a tolerant and diverse city," she added.
The flag was unfurled above people's heads as the parade - described by Ms Savage as the "emotional highpoint of the day" - made its way from The Forum, through the city to Chapelfield Gardens.
"I'll never forget the shouts from the crowd as the breeze caught the flag - it was like a rainbow river," said Ms Savage.
Other events included an animated film SpeakOut about the findings of research into young LGBTQ (lesbian, gay, bisexual, trans and questioning) people's experiences growing up in the care system and a "Question Time" with guests including human rights campaigner Peter Tatchell.
The first Norwich Pride parade held in 2009 was attended by 3,000 people.
Next year's Norwich Pride and other Pride events around the world will celebrate the 50th anniversary of the Stonewall Riots in New York, the event widely credited with giving birth to the gay rights movement.