Fallen Norfolk man found by neighbour looking for cat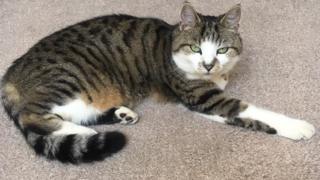 A man searching for his missing cat discovered a neighbour who had lain on the floor of his home for six days without food after falling.
Matt Ware knocked on the door of the house in Brundall, Norfolk, on Wednesday after the cat went missing.
After hearing his neighbour call out from an upstairs room, Mr Ware contacted emergency services, bringing the man's ordeal to an end.
The cat - Tigger - was later found locked in a garage down the road.
Mr Ware, 49, said if it had not been for his cat he feared the man, in his 60s, could have died without anyone knowing.
He said: "It all happened because my cat went missing. She is always about so it was not unusual but I realised on Tuesday night no-one had seen her for 24 hours."
After failing to find Tigger under hedges he decided to knock on his neighbours' doors.
He said: "The garden next door to us is a bit overgrown and very big so she likes to go in there. When I knocked on the door I heard a call from far away and he said he had fallen down.
"When I asked how long he had been there he said it was six days, so I asked him if he had eaten anything and he said 'no'."
Officers forced entry to the man's house to allow paramedics to take him to hospital for treatment.
A Norfolk Constabulary spokeswoman said: "We were called to Brundall yesterday morning (1 August) at about 10:50 BST following concerns for the safety of the resident who had fallen inside a property. The property was locked and secure and officers attended to force entry for paramedics who tended to the man. "
With the safe return of Tigger later in the day Mr Ware said the day had been "very stressful but ultimately successful".
"It does make you think about checking on elderly neighbours," he said. "Unless he had a delivery the chances are he could have been there for many more days."