Norwich Prison officers 'still being attacked'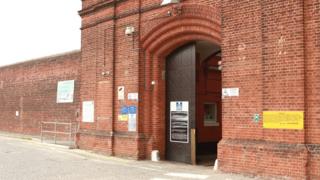 Prison officers continue to be attacked by inmates at a jail after inspectors raised concerns, a union has said.
An Independent Monitoring Board (IMB) report in June said the safety of officers at HMP Norwich was a "constant concern" due to staff levels.
There have been 17 attacks on officers in the past six weeks, Steven Searby of the Prison Officers Association said.
HM Prison Service said: "Assaults on our hardworking staff will never be tolerated."
It added that Norwich had recruited an extra 60 officers on landings in the past 18 months, with nine more to join them by the end of the summer.
In its report, the IMB said "prisoner-on-prisoner violence is widespread with a lack of respect for staff, property and each other", while "prisoners are not always treated humanely".
'£50 fine'
Mr Searby, who is the chairman of the POA trade union branch at Norwich, said: "We have a lot of staff, not just at Norwich, who have to go through sessions of counselling [after an assault].
"You don't expect to come to work and be assaulted, even if you are a prison officer."
He added that a Norwich inmate who hit an officer on the head from behind was recently given a £50 fine in court, which was "no deterrent whatsoever".
Both Norwich MPs recently visited the prison at Mr Searby's request.
Conservative Norwich North MP Chloe Smith said she had written to the prisons minister with her concerns around staffing and violence.
She said she believed an influx of inmates who had been sentenced over London-based drugs gangs operating in Norwich was "changing the culture of the prison".
Clive Lewis, the Labour MP for Norwich South, said a prison representative told him it was "competing with McDonalds" at recruitment because of its poor pay and conditions.
"There is also a complete lack of respect for prison officers, which needs to be tackled," he added.