Sheringham fireworks display cancelled over blaze fears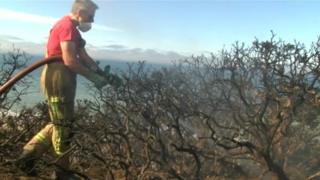 A carnival's fireworks finale has been called off because of fears it could spark a blaze in the heatwave.
Hundreds of people normally turn out for the display, which marks the end of Sheringham's carnival week in Norfolk.
Organisers said they took advice from the fire service, which said this week it had tackled more open-air fires in two months than in the whole of 2017.
The committee's Christine Hendry said it was a "momentous decision" to cancel Sunday's event.
"We've been hoping for rain, but the fire brigade advised against it," she said.
"We had to respect their decision... and we've decided to call it off... it is not worth the risk."
The fireworks are normally set off at the seaside town's golf course, but music and games have now been organised to close the event.
Last month, firefighters were called to a wildfire blaze that spread along the top of nearby Cromer cliffs.