Norfolk Police called out over WW2 battle re-enactment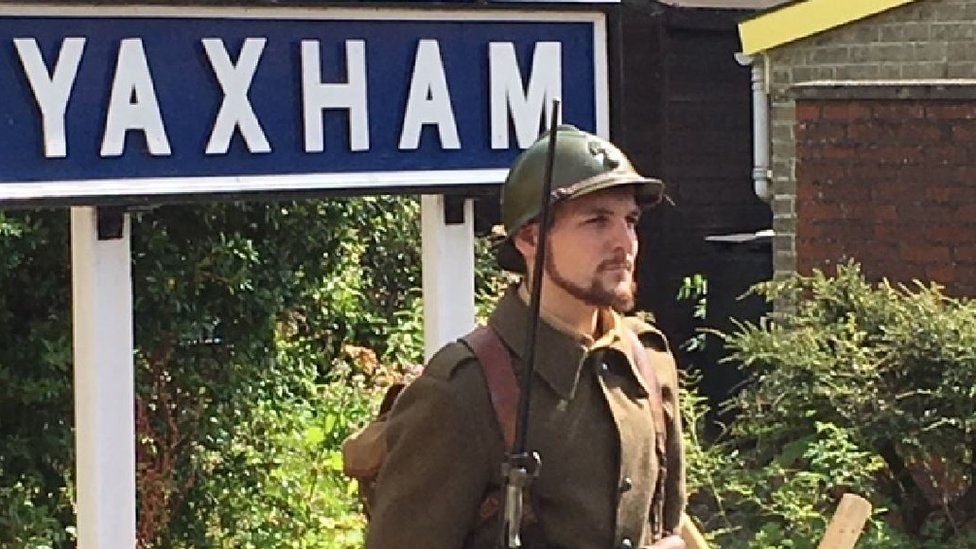 Police responding to reports of gunfire at a rural railway station found themselves in the middle of a World War Two battle re-enactment.
Officers headed to the "crime scene" at Yaxham station in Norfolk after a resident reported hearing shots.
The "automatic assault rifle" fire turned out to be from a demonstration model which "would have sounded like a real gun being fired", police said.
Police said they knew about the event but had to respond to the report.
Re-enactors spent the weekend at Yaxham station and several others in the Dereham area as part of a 1940s "railway at war" event organised by a group of volunteers for the Mid-Norfolk Railway.
However, police said when on Sunday afternoon someone living in the area "heard what seemed to be an automatic assault rifle being fired", officers arrived at Yaxham to check.
Posting on Twitter, Norfolk Police said one of the officers who attended "had a spiffing time" posing on a wartime motorcycle with members of one re-enactment group.
The organisers of the event said they were surprised officers had arrived as, three weeks beforehand, they had warned police "to expect re-enactors carrying weapons and that battles would be at Wymondham, Yaxham and Dereham".
A force spokeswoman confirmed police had been aware of the event but added: "If a member of the public calls police reporting sounds of a gunshot we must respond accordingly to ensure the safety of the public in the event it may not have been from the re-enactment."
Related Internet Links
The BBC is not responsible for the content of external sites.