Great Yarmouth third river crossing: First images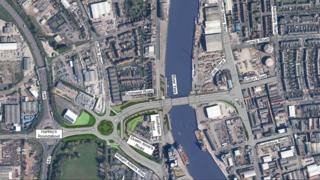 Potential bridge designs for a third river crossing in Great Yarmouth have been issued for the first time, ahead of a public consultation on the scheme.
Campaigners have been pressing for a bridge to ease traffic for 10 years.
Construction of the new lifting bridge over the River Yare will begin in late 2020, the county council said.
The bridge, estimated to cost £120m, will link the Harfreys Industrial Estate A47 roundabout to South Denes Road.
The crossing should also relieve pressure on the seaside town's existing Haven and Breydon bridges, especially during the peak tourist season.
'Enormous potential'
The bridge should be completed by 2023.
Graham Plant, leader of Great Yarmouth Borough Council, said it was "a major piece in the puzzle in realising Great Yarmouth's enormous potential".
"Particularly in supporting the growth of the port, outer harbour and energy-related enterprise zone, which is why the project was awarded £98m by the government in last year's autumn Budget," he said.
Details made public for the first time include:
Designs for the bridge approaches to include a new five-arm roundabout linking Harfreys roundabout to the new roundabout and then continue onto the bridge and over the river to meet South Denes Road
The opening function of the bridge would allow taller vessels through and take around five and a half minutes each time at an average of 15 openings a day
Traffic modelling shows an anticipated 19,400 vehicles a day using the route in 2023, rising to 21,700 in 2038
The bridge will include dedicated pavements for pedestrians and an off-carriageway cycling route
A public consultation on the project will start on Monday, 20 August and run until 5 October.