Norwich homeless play reflects life on streets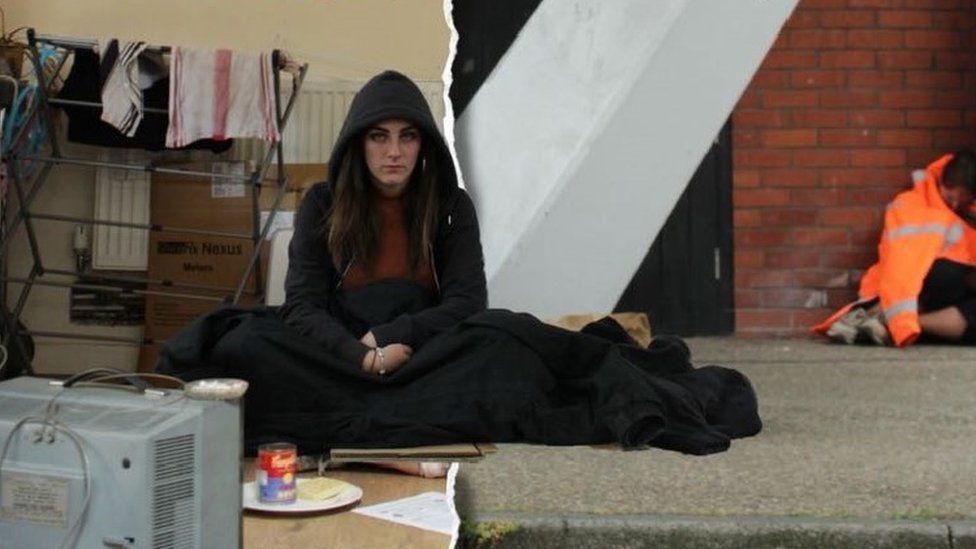 Getting off a bus to be confronted by homeless people huddled in the entrance to a closed city centre BHS store has inspired a play about rough sleeping.
Norwich playwright Heather Kelly, 20, was shocked by the sight and penned When We Were Reliant On The State.
She spoke to many homeless people to get an insight into life on the streets where many felt "in a bad place".
She said a distinctive community is reflected in the play which is at The Garage in the city on Wednesday.
"Near where I got off my bus I would just see all these homeless people sleeping," said Kelly.
"Then one morning boards were put up [across the store's entrance] and they were gone."
Researching the project she heard stories of how people from many walks of life became homeless and their struggles to keep warm in winter or get enough to eat and drink.
"A woman talked about when she had long hair and wore make-up, but said she no longer felt that was important," said the playwright.
"She had really come to terms with herself living on the streets."
Her play focuses on a homeless woman called Becca.
"She starts off living off her mum who is living off benefit. She is kicked out of her home and is driven onto the streets," said Kelly.
"A further character who brings dark humour to the play is Dave who belongs to the LGBT community.
"I wanted to look at homelessness from as many different perspectives as I could - to highlight the issues and bring it to people's attention.
"I really wanted to write a play which leaves people asking questions, not pointing fingers."
The writer belongs to the Six Toes Theatre Company which brings together creative people in the 18-22 age group.
Related Internet Links
The BBC is not responsible for the content of external sites.