Man admits walking pig without lead in Norwich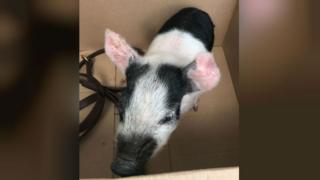 A man who walked a piglet along a busy city street without a lead has admitted the offence in court.
Thomas Murphy-Hankin, 26, was arrested on Prince of Wales Road, Norwich, on Wednesday.
Officers said they arrived to find a dog - which bit one of them - and the pig, which was loose in the street.
At Norwich Magistrates' Court, Mr Murphy-Hankin admitted a public order offence and a charge relating to the stray pig, but denied the dog was his.
Police responded to reports the defendant, of no fixed address, was shouting abuse at members of the public at about 10:10 BST.
Officers, who said they were "lost for words" at the porker's presence, charged him with a public order offence and "having a pig untethered and loose on a public highway", contrary to Section 155 of the Highways Act 1980.
On Thursday, Mr Murphy-Hankin pleaded guilty to both counts, but denied a third charge of owning a dangerously out-of control dog.
He was released on bail until his next court appearance on 31 August, on condition he does not return to the street.
The RSPCA, which is currently looking after the female piglet, said the animal was "only a week old and so will require hand-rearing".
They said they could not comment further due to the police investigation.