King's Lynn Pride parade 'unprecedented'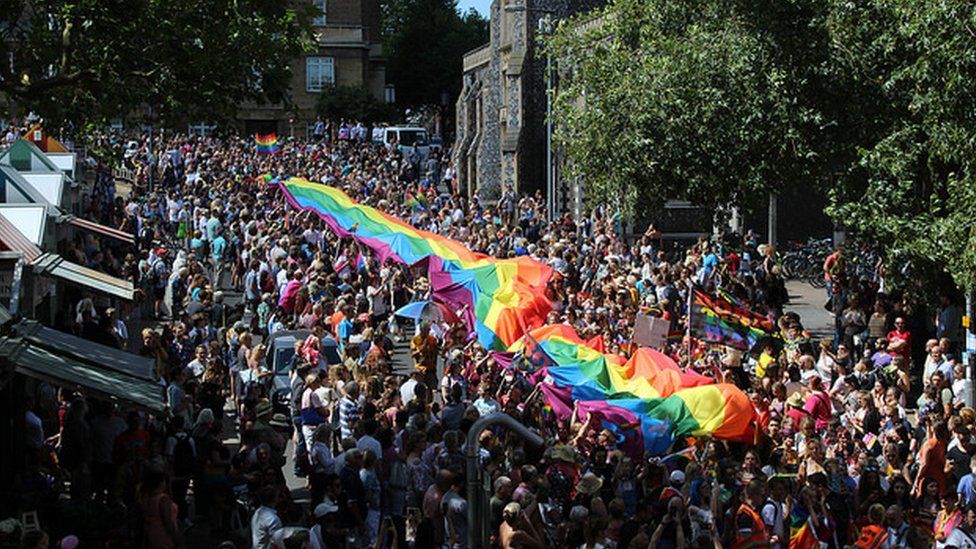 Hundreds of people are supporting the first ever Pride parade to be held in King's Lynn.
About 600 people are expected to turn out for the town's inaugural celebration of the LGBT community.
Organisers said there had been "phenomenal" interest in the "unprecedented" event.
They were inspired to set up the parade following a record turnout at Norwich's 10th Pride in July, which saw crowds of more than 10,000 attend.
Jo Rust, one of the people behind the new event, said it would help "make people more comfortable in their home town".
"I've been involved in protests and marches in King's Lynn for years and the biggest yet was a pensions demonstration where we had 200 people - so this is going to be huge," she said.
"It's very important, too, that this isn't a demo or protest - this is a celebration and is supportive.
"With, say, holding hands, people might feel confident doing that in the security of the crowd and know the population in King's Lynn isn't going to react.
"Then they will feel more confident doing the same on Monday."
Josh Elms was on his way back from Norwich Pride with Ms Rust in 2017 when they decided to host a parade in King's Lynn.
"West Norfolk is quite disconnected from the rest of the county... it can feel more rural and less cosmopolitan than Norwich," he said.
"This is about highlighting that west Norfolk has a diversity and a rich community, which we want to showcase and connect."
The pair were inspired by Norwich Pride, which was started by two friends in 2008 who were "fed up with austerity".
Co-founders Julie Bremner and Michelle Savage were surprised when the first event attracted 3,000 people.
This year, Ms Bremner said she had tears in her eyes when crowds 10-deep lined Guildhall Hill to watch the parade wind through the city centre holding a 164ft (50m) rainbow flag aloft.
"[In 2008] we wanted to make the city feel like it was ours," she said.
"Ely Cathedral raising the rainbow flag at Ely Pride [last week] was a moving moment, reflecting how society has changed.
"It's fantastic. I hope King's Lynn's [Pride] has the same effect."
The BBC is not responsible for the content of external sites.
The King's Lynn and West Norfolk Pride sets off from Tuesday Market Place to The Walks and promises "plenty of glitter and rainbows".
It will include speeches, a drag act, live music, food stalls and plenty of "after parties" once the main event ends.
"Our hope is that it will lift up the town," added Ms Rust.
Related Internet Links
The BBC is not responsible for the content of external sites.