Norwich goalkeeper's shirts 'found in Australian charity shop'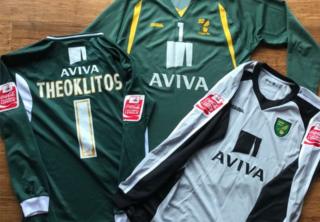 A man who was scanning the rails of a charity shop in Australia says he was surprised to uncover what he believes are official kits belonging to a former Norwich City goalkeeper.
Tom Greenaway was at a charity shop in Melbourne when he discovered two playing shirts and a training top with 'Theoklitos' on the backs.
Michael Theoklitos played once for Norwich, a 7-1 defeat to Colchester.
"I'm going to attempt to chase him up and get it signed," Mr Greenaway said.
Australian Theoklitos moved to the UK in 2009 to play for The Canaries, who at the time were managed by former goalkeeper Bryan Gunn.
But he suffered a disastrous debut in the English third tier, letting in seven goals in what proved to be Gunn's penultimate game before he was sacked.
Theoklitos appeared to be given a second chance by new manager Paul Lambert, but he failed to show up for a cup game and left the club in 2010.
Theoklitos, who is now known as Michael Theo, returned to his homeland and went on to win three league championships with Brisbane Roar.
Mr Greenaway said he spotted a long-sleeved football shirt in the racks of the charity shop.
"I pulled it out and what do you know it's Michael Theoklitos," he told BBC Radio Norfolk. "I didn't recognise that name at all, so I did a Google search on the spot and went 'this is too good to be true'."
Theoklitos wore a short-sleeved top in his sole first-team outing for Norwich, but did wear a long-sleeve shirt for the reserves.
Mr Greenaway said the shop were asking 15 Australian dollars (about £8.50) for all of the kit.
Theoklitos could not be reached for comment, but match-worn shirts are sometimes sold or given away by former players and others connected with a football club.
Football kit historian and author, John Devlin, said the shirts would need to be examined by an expert, "ideally a Norwich collector" to verify their authenticity.
Mr Greenaway said he was planning to trace Theoklitos and ask him whether the kit had belonged to him.
"When I realised he'd been involved in one of the lowest points in the history of the club, that's when I thought 'I just have to buy this kit... all of it'," he said.
"I don't know what I'm going to do with it. I'd certainly like to chase up Michael now."