Bodies of missing fishermen found by Norfolk coastguard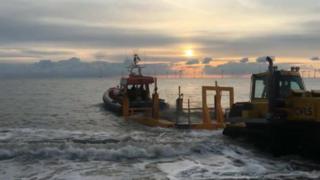 The search for two missing fishermen in the North Sea has been called off after bodies were discovered.
A major search operation was launched on Saturday night after three crew members in a life raft were found off the coast of Great Yarmouth, Norfolk.
They were rescued by a cruise ship when their distress flare was spotted at 18:45 BST. Two other men from their sunken boat were reported missing.
A coastguard helicopter spotted the bodies near the wreckage of the vessel.
They were airlifted to Humberside airport. Formal identification is yet to take place.
Humberside Police said it was trying to contact the families of the two fishermen.
Aimee Rampton, coastguard operations controller, said: "All units have now stood down. Our thoughts are with the family and friends of the crew men."
Coastguard helicopters, crews from Goreleston and Caister, and a number of other boats were involved in the search on Saturday night and Sunday.
The fishing boat, believed to be from Belgium, sank about 25 miles north-east of Great Yarmouth, Norfolk.
The cause is not yet known, but Paul Garrod from Caister Lifeboat said: "They must have gone down very quickly as no mayday call was received.
"It's quite an unusual event, as boats these days should be in good working order, but it just looks like a freak accident."
The crew of the Pacific Princess cruise liner rescued the other men, who had been adrift in a life raft for four hours, before continuing its journey to Dover.