Tasers plea over Norfolk police officer assaults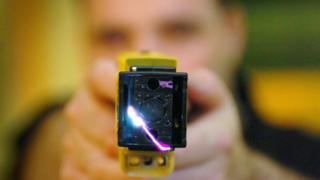 Issuing Tasers to more officers could deter attackers, a police federation chairman has said.
Andy Symonds said six officers were spat at, headbutted, punched and suffered cuts and grazes in Norfolk over the weekend.
Chief Constable Simon Bailey has pledged to introduce stun guns to all officers by 2020, but Mr Symonds said that was "too far away".
Mr Bailey called assaults on officers "completely unacceptable".
Mr Symonds said it was a "sad reality" officers were facing "more and more violence".
He added: "Some of these [attacks] were quite nasty.
"I firmly believe that if they had Tasers some of these officers wouldn't have had these injuries and actually just having a Taser is deterrent enough."
Mr Symonds said carrying Tasers would complement the new Assault on Emergency Service Workers (Offences) Bill, which was given royal assent this week and comes into force in November.
This will see maximum prison terms for people found guilty of common assault against emergency workers double from six months to a year.
The chief constable said he would "welcome anything which enhances the ability of judges to sentence offenders appropriately".
Mr Bailey added: "It is a sad fact assaults against my colleagues are increasing and officers in Norfolk are subjected to abhorrent behaviour on an almost daily basis.
"It is completely unacceptable to assault a person who is simply going out to do their job and do their best to serve the community."