UK's F-35s given all-clear after US crash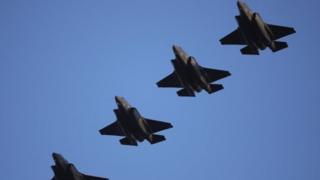 The "vast majority" of Britain's F-35 fighter jets have been cleared to resume operations following a crash in the United States.
The Ministry of Defence (MoD) ordered an inspection of its fleet after an F-35B came down in South Carolina on 28 September.
A spokesman confirmed eight of the nine operational aircraft at RAF Marham in Norfolk were unaffected.
Five of the 16 aircraft need a replacement fuel tube.
The MoD said most of those affected were test jets which are not operational and repairs will be carried out as soon as possible.
Why the RAF's new F-35 jets matter
The US military temporarily grounded its entire fleet of F-35 fighter jets in the wake of a crash, prompting a review of the UK's aircraft.
"We have concluded the inspection of all our F-35s, and the vast majority have been cleared to resume all operations," the MoD spokesman said.
"Flight trials are continuing from the aircraft carrier, HMS Queen Elizabeth, and the programme remains on schedule to provide our Armed Forces with a game-changing capability."
The aircraft in South Carolina was destroyed in the crash but the pilot ejected safely.
The plane has been sold to a number of nations, including the UK, Japan, Italy, Turkey and South Korea.
It was first used in combat by Israel earlier this year to carry out two strikes and is designed for use by the US Air Force, Marine Corps and Navy.
It has avionics, sensors and communications that allows data to be shared quickly with operational commanders.