UEA research: Robotic boat to survive Antarctic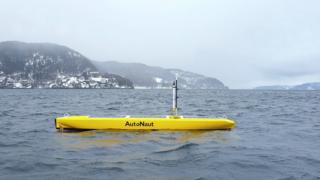 Researchers at the University of East Anglia (UEA) are helping to make a robotic boat designed to survive an Antarctic freeze.
They have teamed up with engineers at Chichester-based AutoNaut Ltd to create the vessel, which could cost up to £1m.
It is being tested by the team using a sea-ice chamber that replicates the polar environment.
The team is testing the coatings for the outside of the boat and the windows.
Prof Karen Heywood, of the UEA's School of Environmental Sciences, said the boat would be able to collect scientific data efficiently over long distances and missions.
She said: "We need to understand how warm water gets underneath the Antarctic ice to melt it and cause sea level rise."
One of the challenges involves how to stop the boat being covered in ice.
With a possible air temperature below -10°C, sea spray would become immediately frozen.
This ice would clog up the scientists' sensors, and could make the boat top-heavy so it might capsize.
To address this, the team is testing a range of coatings it hopes will make the boat's surface "non-stick".
Mike Poole, AutoNaut director, said: "Antarctic waters are a serious challenge, but one we are thrilled to take on.
"If we can build an unmanned boat to survive in the Southern Ocean, we'll be sure it can thrive anywhere."