Norfolk World War One handmade poppy display takes over church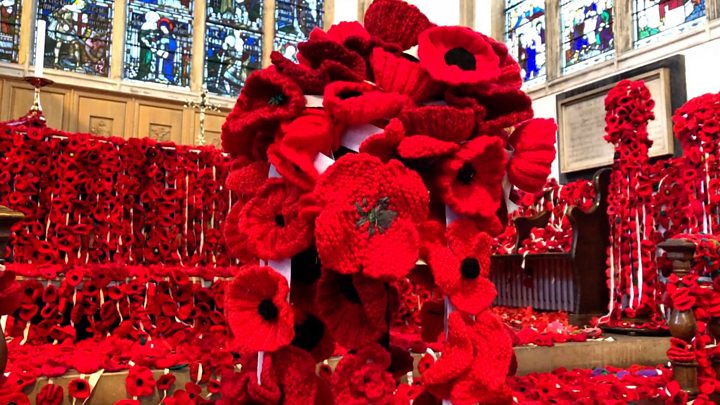 A display of 15,500 handmade poppies has gone on display to mark the 100th anniversary of the end of World War One.
Each poppy in St Peter Mancroft Church, Norwich, represents an individual killed in the war and named on a Norfolk war memorial.
A year-long campaign by the county council seeking poppies brought in contributions from around the world.
Organiser Sarah Salmon said the display was a "fitting tribute".
The poppies have been knitted, crocheted and made from a wide range of recycled materials by crafting groups based in Norfolk's libraries.
'Boxes and boxes'
Groups of Brownies and Scouts also made dozens of the poppies, while others came from further afield.
Ms Salmon, project co-ordinator for Norfolk County Council's Libraries and Information Service, said some of her favourites had come from the United States, and that one family had sent her "boxes and boxes".
"A lot of them have come in with family history stories, which is nice," she said.
"Somebody said the best thing was, even though they were following a pattern, each of the poppies is unique, just like the soldiers, and I think that's a really fitting tribute"
Commemorations are planned to mark the centenary of Armistice Day on 11 November.
The Reverend Edward Carter, vicar of St Peter Mancroft, said: "To think that this display will be here this week is great because all sorts of people will be more than welcome to come in and just enjoy seeing it and remember, actually, what they represent."
The poppies will be displayed in the chapel at the church until 30 October, before being split into smaller displays and distributed across Norfolk's 47 libraries and eight mobile libraries in November.