Norfolk pig farmer builds 'pumpkin house'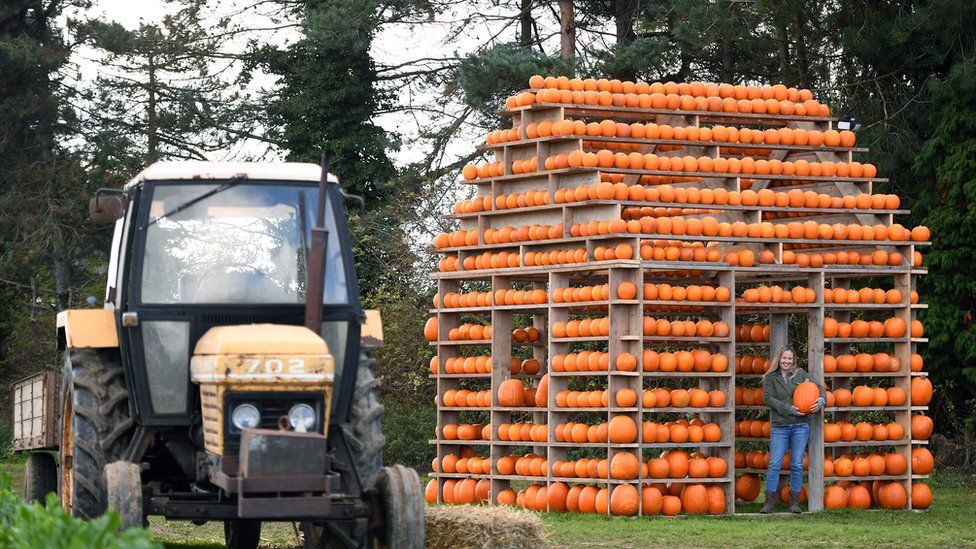 A pig farmer has been putting a quieter time of his year to 'gourd' use by building a pumpkin house.
The structure, which is 18ft (5.5m) tall and made up of about 950 pumpkins, has been constructed on Brookhill Farm in Thursford, Norfolk.
The inspiration came from a photo Henry Cushing's wife Victoria saw online, and she balanced in a JCB scoop to reach the top levels.
Mrs Cushing said the house took "two solid days of sawing and hammering".
It was built by Mr Cushing, 44, and a friend using a single photograph of a similar structure in the United States last year as inspiration.
"We're normally pig farmers and sugar beet arable farmers so our busiest time is usually August and September while we're doing harvest," said Mrs Cushing, 36.
"This is a relatively quiet time of year so it's actually quite good for the farm to be able to do something, it's a kind of diversification project.
"I'm hoping this will become an annual event and it should just get us a bit more income into the farm and we can grow and make it something spectacular."
The majority of the pumpkins come from Cambridgeshire, but the pair are planning to grow more of their own next year.
They added the attraction has helped draw a steady stream of customers to their their pop-up pumpkin shop.