Norfolk cattle farmer warns of mass balloon release hazard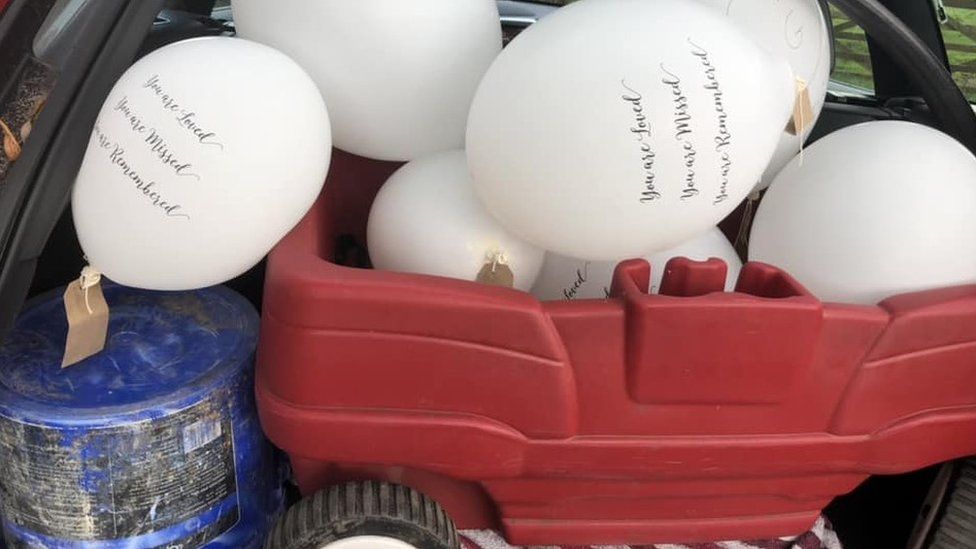 A cattle farmer has warned people against releasing balloons after one of her calves tried to eat one.
Cait Clarke, of Runham, near Great Yarmouth, Norfolk, farms about 50 Aberdeen Angus cattle.
She was checking 12 of the animals in a field in nearby Ludham when she found 10 balloons, carrying messages of remembrance, and one of them was in a calf's mouth.
She said if she had not intervened the animal "would have probably died".
Ms Clarke posted a message on Facebook: "It's a lovely idea to remember a passed loved one, and my thoughts are with the family, but I wish people would think about the repercussions of where these things can end up.
"What goes up must come down."
Her post was shared more than 25,000 times.
"It's gone a bit mad," she said.
At present balloon releases are not normally regulated, except if near an airfield.
Ms Clarke said she backed the Marine Conservation Society's (MCS) campaign, started in 2017, for councils to ban balloon releases on public land.
The MCS has said: "On beaches and in the sea, balloons, strings, lanterns and frames can have long-lasting effects both as choking and entanglement hazards.
"Currently over 50 UK local authorities have agreed to implement a ban on balloon and lantern releases on their land.
"MCS wants to see all intentional balloon releases stopped."
Brian Finnerty, a spokesman for the National Farmers Union in East Anglia, said he urged people to think of other ways of commemorating loved ones or publicising events.
"Mass balloon releases can look pretty, but the consequences when they land can be serious for livestock, as well as posing a litter nuisance," he said.
Related Internet Links
The BBC is not responsible for the content of external sites.