North Norfolk District Council leader wants to unify authority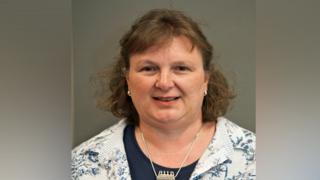 A new Liberal Democrat council leader has said she wants a cross-party cabinet to unify the authority.
Sarah Butikofer became North Norfolk District Council leader after Conservative John Lee lost a confidence vote in a row over a business park.
The Lib Dem takeover follows the defection of 11 former Tories, nine who now sit as independents and two who joined the Lib Dems.
A 12th Tory resigned from the council and his seat was won by the Lib Dems.
Speaking after the vote, Mr Lee said: "I wish the very best of luck to Sarah in the post - she is going to need it."
Mrs Butikofer wants to include all political groups in her new cabinet, saying: "This is not about being destructive or trying to undo projects currently on the table."
'Under huge pressure'
She said the confidence motion was triggered when five Conservative cabinet members voted against the full council's wish to rethink the controversial Egmere Business Park plan.
The proposed park would provide subsidised premises for offshore energy companies, with the council contributing £2.2m.
The full council wanted a study into its financial viability, a decision overturned by the Conservative cabinet.
"In the current financial climate, where councils are under huge pressure, we cannot make decisions without solid foundations," said Mrs Butikofer.
An independent review of the business park plan will now go ahead and a decision will be made on its future early next year.
Mr Lee told the Local Democracy Reporting Service: "I tried my very best as leader of the council. which is all you can ever do."
The council currently has 48 seats, with 19 held by both the Lib Dems and the Tories, and nine by independent councillors, with one vacancy.
All seats are up for re-election in May 2019, when a boundary change will reduce the number of councillors to 40.