King's Lynn A47 crash: Driver had heroin in his system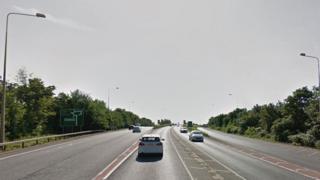 A van driver who died in a crash that also killed one of his passengers had traces of heroin in his system, an inquest has heard.
James Cox, 46, was driving the van when it hit a coach on the A47 at King's Lynn, Norfolk on 17 January, killing him and Riki Boughen, 43.
Coroner Jacqueline Lake told the hearing in King's Lynn the coach driver could do "nothing" to stop the crash.
She concluded that both men died from injuries received in the collision.
The men, both from Princes Street, Wisbech, Cambridgeshire, were returning after working on a building site at Hethersett, near Norwich.
The crash happened on the eastbound carriageway on Constitution Hill, near the Hardwick roundabout.
Passenger Mr Boughen was declared dead at the scene after suffering a serious head injury.
'Sixty-hour weeks'
Mr Cox was taken to to the Queen Elizabeth Hospital in King's Lynn but died from multiple injuries.
A toxicology report found Mr Cox had a low level of heroin in his blood, some morphine and the painkiller co-codamol.
The inquest heard that they were below the driving limit, but a post-mortem examination could not establish what tolerance he had to the drugs and therefore how much he would have been affected by them.
The coach involved belonged to RAF Marham and was bringing a station football team back from a match at RAF Cranwell.
Adam Smith, who was in the van along with Mr Cox, Mr Boughen and Adam Bunton - who also survived - said it "was not uncommon" for the men to work 60-hour weeks.
Coroner Mrs Lake said the effects of morphine could include drowsiness.