Bishop of Norwich gives final cathedral service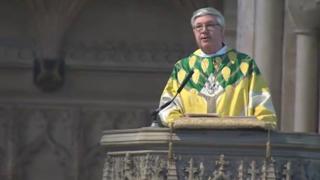 The Bishop of Norwich, the Right Reverend Graham James, has given his last service before stepping down.
Of his 19 years in the role, he said it had been "a privilege and an honour".
The bishop, who has been an active member of the House of Lords, gave his final blessing from the ancient throne in Norwich Cathedral.
Bishop James told the congregation he and his wife Julie would "miss this diocese and this cathedral enormously".
He said he would not be "disappearing immediately" and had a number of engagements that would be "below the radar" and this would be his last sermon at the cathedral.
Bishop of Thetford, the Right Reverend Alan Winton, said: "Bishop Graham's ministry and presence in the diocese will be hugely missed by so many people.
"We are fortunate to have been served by a man of such immense gifts and such a tremendous capacity for work and friendship."
Bishop James is currently the longest-serving bishop in the Church of England.
The bishop, who retires early in the new year, celebrated 40 years of priesthood in September 2016.
He has been an active member of the House of Lords since 2004, and was invited to join the Lords Select Committee on Communications in 2011.