Norwich landlord forced to demolish unlawful extension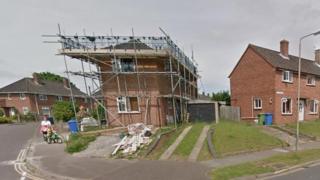 The landlord of a student house has been ordered to demolish an extension after building it without planning permission.
Norwich City Council wants Kaushik Trivedi to restore the property on Ruskin Road to its pre-extension state.
A planning inspector said the changes were too dominant and out-of-character with the rest of the street.
Mr Trivedi had appealed against the enforcement arguing that the new design was "cohesive and attractive".
But a planning inspector, who visited the site in October, said the building work had harmed the character of both the house and the street and he ruled that the first floor extension should come down.
The semi-detached house on Ruskin Road, near the University of East Anglia, is currently let to six students.
Permission was given in 2000 for a two-storey extension with attached garage.
But the council planning committee decided to act in February this year after the garage was converted to a living space and an extension was built above it without planning permission.
A report to the committee in July said the extension was "not sympathetic to the character of the original property" and "harmful to the character of the street scene".
In addition, the building became a house of multiple occupation - for which change-of-use planning permission was needed.
Mr Trivedi appealed against the council's decision, claiming that permission had been granted for a similar extension nearby.
He also argued that the first extension made the house look imbalanced and that his addition was "cohesive and attractive by comparison".
A spokesman for the council said Mr Trivedi now has six months to remove the first floor extension and reinstate the pitched roof of the garage.
When asked by the BBC, Mr Trivedi declined to comment or confirm if the work would be done.