Ex-Liverpool footballer Frank Lockey found in 'zombie state' in hospital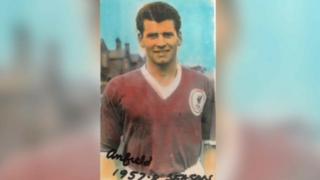 An ex-Liverpool footballer was often in a "zombie-like state" and found with unexplained injuries in an NHS care home, his daughter has told an inquest.
Frank Lockey, 84, who played for the club in the 1950s was found dead in an armchair at the Julian Hospital in Norwich in August 2017.
Tina Lockey told the Norwich hearing: "I believe my dad would be alive today if it was not for the poor care".
But the coroner said she had not yet heard any evidence to suggest neglect.
A post-mortem examination found the cause of Mr Lockey's death to be due to heart disease and Alzheimer's.
The inquest heard he had also suffered Parkinson's, had diabetes and that in January 2017 was sectioned for six months under the Mental Health Act to protect him from harm.
But Ms Lockey claimed "Over a significant period of time he was neglected while he was at his most vulnerable".
She said she often visited to find her father in clothing that did not belong to him, that he was "unkempt and dirty" sleepy and sedated or with untreated wounds.
She reported fears of assault to Norfolk Police after seeing cuts and bruises on his hands, body and arms.
The force said it had referred the case to the Multi Agency Safeguarding Hub but found no cause for any criminal investigation, the inquest was told.
Medical psychiatrist at the Julian Hospital, Dr Hugo de Waal said tremors caused by Parkinson's made Mr Lockey "unsteady on his feet", causing falls and minor injuries like cuts and bruises.
'The harsh reality'
Asked by the coroner, Jacqueline Lake if he had any concerns about the injuries, Dr de Waal said older people bruised easily.
He added his diseases made Mr Lockey aggressive or agitated towards other staff and patients and that balancing medication for Parkinson's was difficult as he often refused them.
"It's the harsh reality of these neural disorders. we actually treat them very well," said Dr de Waal.
The care home is run by the Norfolk and Suffolk NHS Foundation Trust which carried out a serious investigation review in May where issues were found in clinical record keeping at the unit.
Nurse Robert Pike told the court that he could not explain every fall or injury that Mr Lockey had and by August was on "arms length care" so as not to agitate him.
The court heard that on the day of his death, Mr Lockey was on six staff checks per hour and was discovered dead in an armchair in his bedroom.
Mr Lockey, originally from Dumbartonshire, was signed by Liverpool FC in 1956 and moved to Norfolk in the 1980s.
The coroner has invited his family to write to her setting out the reasons why they still might think Mr Lockey had died of neglect.
Ms Lake is due to give her conclusions next week but said the medical cause of death "was clearly natural".