Norwich council offices to be turned into social housing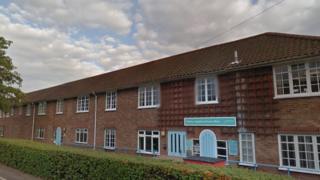 Empty offices are to be converted into council homes in a £1.1m plan to ease a city's social housing waiting list.
Norwich City Council is to turn its former neighbourhood offices in Bullard Road into seven new homes, including one adapted for disabled tenants.
The move is designed to take pressure off the 4,000-strong waiting list and provide more four-bedroom homes.
The council has unanimously approved the finances, but the scheme still needs planning permission.
A report to the city's full council meeting said that although Norwich has about 15,000 council houses, an extra 278 affordable homes are needed each year.
Four-bedroom houses are in particular demand, with only 435 currently on the social housing register.
Technological advances
The report stated that in the past four years, 662 council properties were sold under the Right to Buy scheme and that it was important for the authority to look at all opportunities to build new ones.
If given planning permission, the Bullard Road offices will be converted to:
5 x four-bedroom homes
1 x two-bedroom house
1 x two-bedroom bungalow adapted for disabled tenants built alongside
The work would be done by the council's in-house company Norwich Regeneration Ltd and would be expected to take 40 weeks.
The £1.1m cost would come from housing funds, spread over two financial years, although the figures will need final approval at the council's budget-setting meeting in February.
A council spokesman said the Bullard Road offices, which provided services for tenants, were no longer needed because more tasks could be done online and technological advances allowed staff to work out of the office.