Norfolk & Suffolk Foundation Trust criticised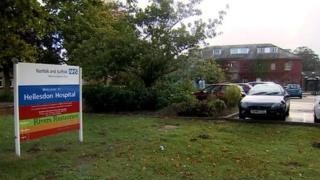 Mental health campaigners have called for action after a trust was rated "inadequate" for the third time.
Norfolk and Suffolk Foundation Trust held a board meeting just one day after it was again criticised by the Care Quality Commission (CQC).
Campaigners attending the meeting expressed anger that the same concerns kept coming up again and again, with one likening it to "Groundhog Day".
The trust's chief executive, Antek Lejk, promised to improve services.
Following the meeting, Anne Humphrys, co-chair of Suffolk Parent Carer Network, told the BBC that the trust was "broken" and said she had written to the Health Secretary, asking for the government to intervene.
A spokesman for the Campaign to Defend Mental Health Services in Norfolk and Suffolk also said the group had been telling the trust about its failures "for years" and did not believe it would improve.
"It's like Groundhog Day with lots of the platitudes and buzzwords," he said.
Mr Lejk said he recognised words were not enough and told the meeting, at The Athenaeum in Bury St Edmunds, that the trust had "gone into crisis management mode".
He also told how major changes needed to be made in order for the the organisation to improve.
"We don't have a clinical leadership that is allowed to lead. We need to put that right," he said.
Mr Lejk told the meeting that in four weeks' time, he would compile a report to show how the trust was addressing CQC concerns.