Ed Sheeran in 'secret' Q&A with Norwich students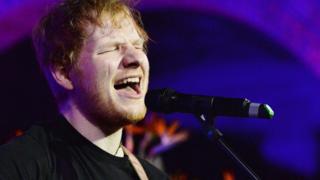 Ed Sheeran surprised a group of college students when he appeared unannounced on stage at a Q&A event.
The Castle on The Hill singer appeared as a "secret speaker" at the Norwich campus of Access Creative College, which he is the patron of.
He gave advice on the music business and took questions from the audience.
"You have to write 100 songs to create a good one, you have to write 1,000 songs to create a great one," he explained.
According to the college's Twitter account, Sheeran also said he would be a "songwriter or session guy" if he was not touring the world with his own music.
The college had billed the event as a "once in a lifetime opportunity to our students to meet and ask questions to those who have excelled in their field, such as hugely successful artists and film directors".
Sheeran studied his craft at Access Creative College's sister site in Shoreditch, London, before hitting the big time with his debut album in 2011.
Access Creative also has colleges in Bristol, Lincoln, York, Birmingham and Manchester.
Its alumni include Rita Ora, Jess Glynne and Let's Eat Grandma.
BBC Music Introducing's Norfolk presenter Sophie Little, who hosted the session, said: "It was an honest, frank and relaxed conversation.
"He was so much part of the local music scene years ago and since then has become a worldwide recording artist.
"Having him come back here is hugely important and his life is such an inspiration to music students."
Music student Scott Ribbons said: "He's my idol. The most famous musician in the world, essentially.
"To see him here and get my guitar signed is unbelievably special to me."
Singer-songwriter Ruby Ayers said: "He's so down to earth and so nice to speak to. He's just a normal person like you or me."