Norwich cats 'dumped like rubbish' in wheelie bin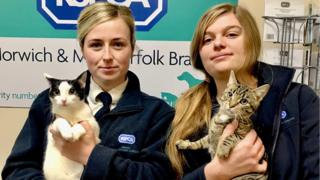 Two cats have been found "dumped like rubbish" in a wheelie bin by a woman who went to put out her refuse, the RSPCA has said.
The pair have been named after waste firms Biffa and Veolia by the charity, which took them in after they were found in Wilby Road, Norwich on Monday.
They are believed to be about five months old and said to be in a good condition, although not micro-chipped.
Paige Burnham, of the RSPCA, said she has "no idea" why the cats were dumped.
"I think it is too much of a coincidence for two cats to be in a bin together - they must have been placed there deliberately," said Ms Burnham, an animal collection officer.
"They are lovely and would make great pets."
The RSPCA is urging anyone with information about Biffa and Veolia to contact them.