Norfolk construction worker crushed between trucks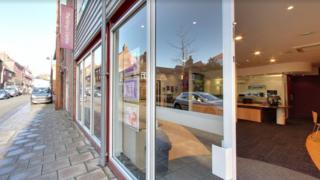 A man was crushed to death while he was working on a construction site, an inquest has heard.
Jason Hickman, 47, of Cannock, Staffordshire, had been repairing a gas pipeline at Watlington, Norfolk.
He had been attaching a tow chain between a lorry stuck in mud and a dumper truck when the latter reversed sharply, crushing his skull.
Mr Hickman had told the dumper truck driver to back up "a little" while he was bending down between the vehicles.
The inquest at The King's Centre, Norwich, heard how Peter Easter, a delivery driver for Jewson's had unloaded 10 tonnes of sand.
Mr Easter said he struggled to turn around his 26-tonne crane lorry to leave the site, which was full of cars and cabins, and his wheels became stuck in mud.
He said he should have called a branch of Jewson's to come and retrieve his vehicle but instead accepted an offer of help from a banksman, Dale Anderson, who went to get the dumper truck, some chains and Mr Hickman, who was working for BR Industrial.
Mr Anderson then drove the dumper truck while Mr Hickman attempted to attach the chain, which was too short, to the two vehicles.
"I don't know what happened but the dumper truck just shot back," Mr Easter said.
In a statement, John Finnegan from BR Industrial said both men had only driven the dumper truck previously when supervised.
He said the truck "wasn't capable" of towing the lorry but that a five or six-metre chain should have been used instead of a metre-long one.
Since Mr Hickman's death in December 2017, all vehicle keys are kept in a locked box and permission for use is required first, Mr Finnegan added.
The inquest continues.