Norfolk care services: Chances missed to stop child injuries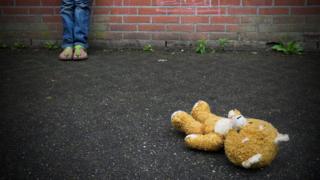 Opportunities were missed to prevent deliberate head injuries inflicted on six children, a care review has found.
The Norfolk Safeguarding Children Board (NSCB) said a lack of collaborative working had put a child in danger of injury in some cases.
All the cases involved a police inquiry and in one a child died, with her father convicted of manslaughter.
The board said it had set up a task force to improve safeguarding.
The NSCB report said it looked at the cases of the children, all from different families, aged from three months to three years who suffered head injuries between May 2016 and April 2018.
The child who died - known as Child V - was a six-month-old girl from King's Lynn in Norfolk who was killed in March 2016.
A report on this specific case concluded that agencies had not fully supported the child's vulnerable mother and older sibling at the time.
The report said at one point the child known as AF1 was seen at the home of her aunt with bruises and deep scratches on their face and there were reports of "cannabis use and the presence of unknown males".
It said that a child protection medical was not considered as in Norfolk "there is a perception that child protection medicals only take place when a child has an injury and there is suspicion that the child has been injured" deliberately.
The report said this was wrong.
The board's latest report reviewing all six cases said that while there was much to praise with the services provided by the county council, NHS and police, there were "ongoing safeguarding issues in Norfolk, and nationally" with cases of non-accidental head injuries.
The report recommends:
Multi-agency risk assessments and practice must be strengthened
Greater appreciation needs to be taken of the emotional impact of the work on the workforce
More recognition should be given to the effect of bad childhood experiences on parents and how this affects how they treat their children
Frontline workers should ensure they know where the vulnerabilities are in their caseloads
Increasing the energy and commitment to build partnership working at the front line
David Ashcroft, independent chairman of the NSCB, said: "This review has given us a really useful insight into what supports good practice.
"Much of the learning identified in this review is not exclusive to Norfolk and there is no magic wand, in the form of a series of recommendations, that provides an easy answer."