Banham Poultry factory staff test positive for Covid-19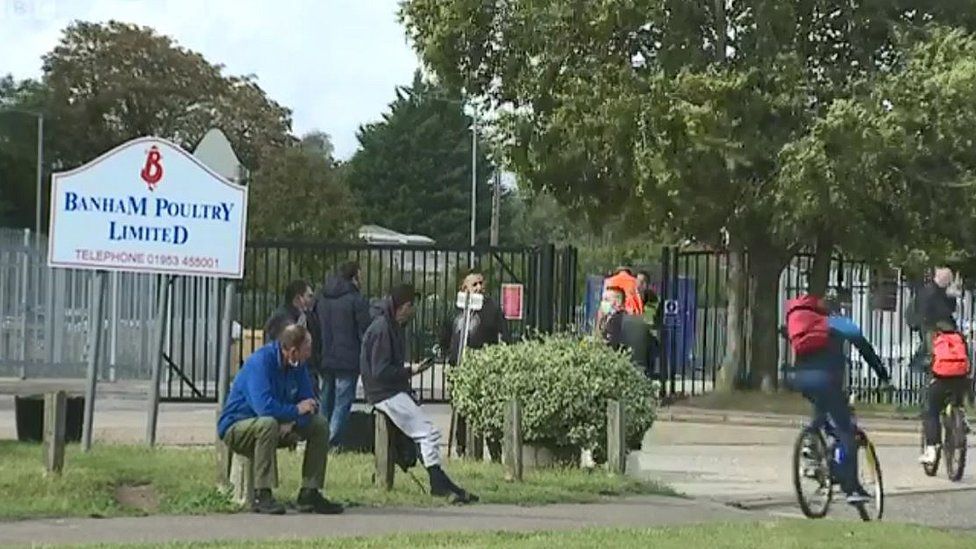 A factory is to partially close after 75 poultry processing workers tested positive for Covid-19.
Tests were carried out on 347 staff at Banham Poultry in Attleborough, Norfolk, after seven caught the virus.
The county's director of public health, Dr Louise Smith, said this was "now being regarded as a significant national outbreak".
Staff from the cutting area of the factory have been asked to go into isolation along with their households.
Dr Smith said: "The action has been taken because we believe it is the best way to protect the wider public from further infection."
The source of the outbreak is not yet known but a geographic or town based lockdown was not anticipated at this stage, Dr Smith said.
Other areas of the processing plant would remain open for now, although the outbreak would be reviewed by central government on Thursday.
At least one factory worker had been taken to hospital but their condition was unknown.
Banham Poultry has been working with the council's public health department and had "voluntarily agreed" to shut part of the plant.
Blaine van Rensburg, managing director of Banham Poultry said the "safety of our employees remains our number one priority".
"We continue to ensure that PPE is used appropriately by all employees and have teams in place to encourage and monitor social distancing measures," he added.
A deep clean of the cutting room, where poultry is cut and packaged, will now take place.
Only staff working in one area of the factory were tested while the wider plant, which employs about 1,100 people, remains open for production.
Dr Smith said her department had sought specialist advice from Defra and the Food Standards Agency, as well as bio-security departments.
She said they were exploring whether to talk to other poultry factories in the area.
The east of England processes 7% of the country's poultry.
The Greencore sandwich factory in Northampton, where nearly 300 workers tested positive last week, has now reopened on a staggered start-up.
Related Internet Links
The BBC is not responsible for the content of external sites.