Covid-19: Cromer Boxing Day charity dip cancelled due to pandemic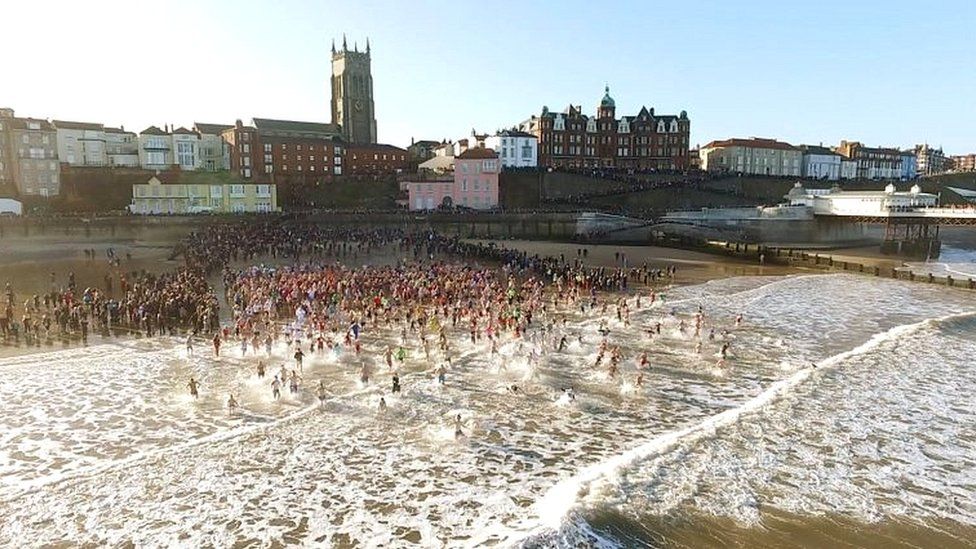 An annual Boxing Day dip, held for more than 30 years, has been cancelled for the first time due to the coronavirus pandemic.
The event in Cromer, organised by North Norfolk Beach Runners, has raised more than £75,000 for local good causes since it started in 1985.
With up to 500 "dippers", the event is one of the biggest in England.
"It's a horrible decision to make but not a tough one in the current climate," said organiser Clive Hedges.
"While we may have been able to create a secure environment for the dippers, we could not do the same for the crowds so, with regret, we have taken the decision to cancel the event this year," said Mr Hedges.
The fundraiser started as "a bit of a dare" and has grown each year since with thousands of people lining the promenade and pier to cheer on the hardy swimmers.
Terry West, 32, who lives in Overstrand, has been a regular dipper over the years and said he was "saddened to hear the news".
He added: "The dip means a lot to Cromer and is always a great showcase of the town's generosity and community spirit. It's always been a big West family tradition and is a fantastic way to generate funds for amazing charities."
Organisers have asked people not to dip on Boxing Day just for the sake of "tradition", saying "they will be putting themselves and others at risk".
It is hoped the event will return in December 2021.