Justin Fashanu: 30 years since footballer came out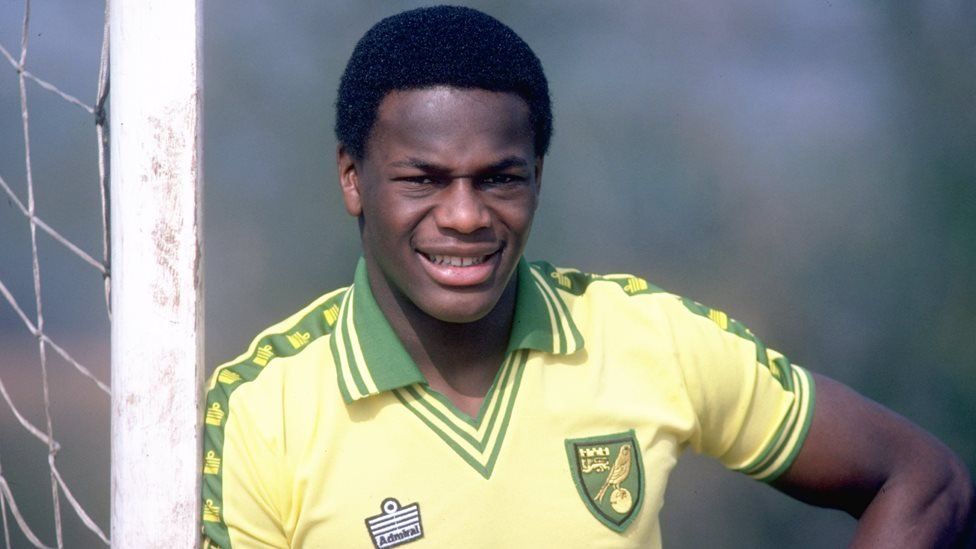 Exactly 30 years ago, footballer Justin Fashanu hit the headlines as the first professional player to come out as gay. What impact did he make - and why have no others followed him?
As a footballer, Justin Fashanu was a ground-breaker. In 1981 he became the country's most expensive black player with his £1m move to Nottingham Forest.
Growing up in foster care in Norfolk alongside his footballer brother John, he had risen through Norwich City's youth ranks.
His majestic strike against Liverpool in 1980 was Match of the Day's Goal of the Season, cementing his legendary status among Canaries fans.
Then, in 1990, Fashanu stunned the football world when he told a newspaper he was gay.
Three decades on, he remains the only male footballer to reveal his sexuality while playing professionally in the top tiers.
"It's believable because of the attitude that surrounds football," she said.
The daughter of Wimbledon FC stalwart John, Ms Fashanu was just 10 when her uncle took his own life in 1998, aged 37.
"Justin was an incredible person with a very big heart," she said.
"If he was still alive now people would be able to see that. He accepted everyone as they were, it was all about love - I miss that a lot.
"He was the one person who taught me as a kid how to love, and how to love without judging."
Despite strides made elsewhere, she said football was lagging behind the pace of societal change.
Same-sex marriages in England and Wales were legalised in 2013. Welsh rugby union star Gareth Thomas came out in 2009, and ex-footballers Thomas Beattie and Robbie Rogers went public about their sexuality after leaving the game.
But to be a gay footballer in the elite leagues was still a "major issue", she said.
"It's always been that powerful, secretive, dark world where there's no place for anyone weaker and a lot of people see if you're gay, you'd be weaker.
"You can't really blame one person - it's the environment of football."
Lower down the football ladder, in England's ninth tier, Matt Morton said he had been overwhelmed by positive comments since coming out on Instagram in June.
"Even my fiercest rivals on the pitch have been supportive," said Mr Morton, 33, player-manager of Eastern Counties League club Thetford Town in Norfolk.
He said he had been "flooded" with private messages from people who had quit the game rather than come out to team-mates.
"It has to happen en masse in the lower leagues - or with more high-profile players coming out - to get to the point of normalisation," he said.
"I'm a footballer but sexuality should just be such an inconsequential thing to other people's lives.
"Everyone needs to come together as a whole - you can't expect the minority to take on the mantle."
That sentiment is echoed by LGBT rights charity Stonewall, which is working with the Premier League and the Football Association (FA).
"Tackling anti-LGBT attitudes and behaviours cannot and must not rest on the shoulders of LGBT athletes alone," said the charity's Jeff Ingold.
"Speculating over why people don't come out ignores the many valid reasons someone may have for not being open about their sexuality.
"Focusing on the absence of openly gay and bi male professional football players often adds more pressure to what is already a high-stress environment."
The charity hopes support for campaigns such as its Rainbow Laces project will lead to more "confident athletes... accepted for who they are".
BT Sport presenter Jake Humphrey, a life-long Norwich City fan, said it was "important to remember Justin as a great footballer, but also as the person he was".
He added: "There is no doubt over the years football fans have cheered, celebrated and loved footballers unable to come out."
The FA said it had made moves across all levels of the game to help players and fans be included.
"We have come so far since [Fashanu's] tragic experience, however... more needs to be done," said The FA's Jehmeil Lemonius.
"We will continue to work... to help create a safe and supportive environment for any player who chooses to come out, so we never have a situation like Justin's again.
"Justin wasn't just a fantastic player, but a remarkable man... a role model and trailblazer."
He said the women's game had many players open about their sexual orientation and had shared their stories to help others.
For Ms Fashanu, her uncle's spirit remains strong.
"If Justin was still here my foundation wouldn't exist; there would be no need for me to do it - he was so powerful in a very peaceful way," she said."There's no road map to show these footballers what would happen... it would change your life forever to be remembered as only the second gay top-flight footballer in the world.
"We could be doing more considering football has a lot of power and money, but I do think we are doing something."
Related Internet Links
The BBC is not responsible for the content of external sites.