WW2's 'Spitfire Women': Eleanor Wadsworth, one of last female pilots, dies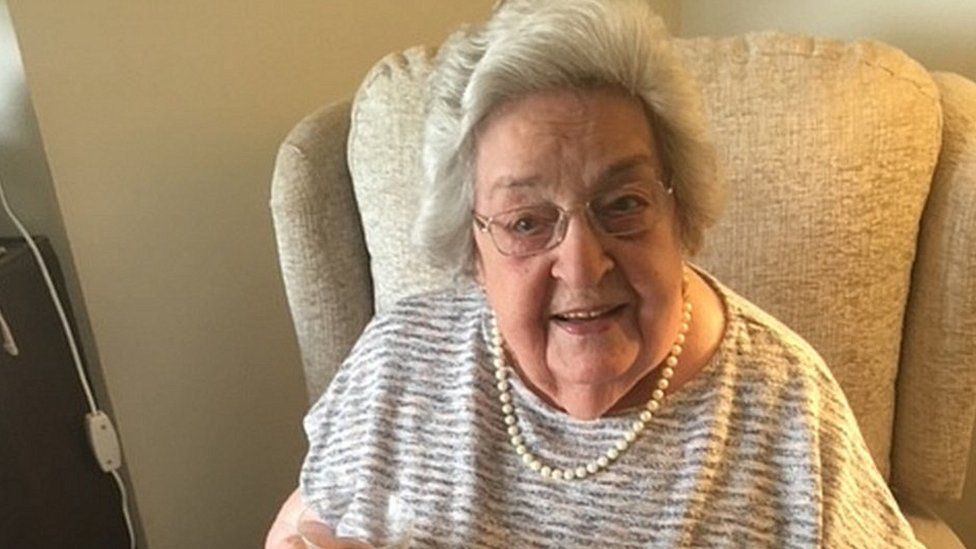 One of the last surviving "Spitfire Women", who ferried aircraft to the front line in World War Two, has died.
Eleanor Wadsworth, who was 103, was part of the Air Transport Auxiliary (ATA), a civilian service that transported fighter aircraft and crew.
The ATA Association said she was among 165 women who flew without radios or instrument flying instructions.
Mrs Wadsworth, who lived in Bury St Edmunds, died in December after a month of illness.
During the war, about 1,250 men and women from 25 countries transferred some 309,000 aircraft of 147 different types.
Mrs Wadsworth, who was born in Nottingham, joined the ATA in 1943 after seeing an advertisement for female pilots and was one of the first six successful candidates to be accepted with no or little previous flying experience, historian Sally McGlone said.
"The thought of learning to fly for free was a great incentive [so] I put my name down and didn't think much about it," she said.
She added that she had enjoyed flying Spitfires the most, which she did 132 times.
"It was a beautiful aircraft, great to handle," she said.
Tributes have been paid to her bravery on social including one from former RAF Tornado navigator and Gulf prisoner of war John Nichol.
Sad to learn via @sallyacb275 that last surviving female ATA pilot Eleanor Wadsworth has died aged 103.
She joined up in 1943, flew 22 types inc Spitfire & Hurricane.
Commenting on her long life she said, "It's just luck! I try not to worry about things I have no control over". pic.twitter.com/r1myLr0Vmz

— John Nichol (@JohnNicholRAF) January 7, 2021
Ms McGlone said Mrs Wadsworth and her fellow ATA pilots "will remain an inspiration to women worldwide", while fellow historian Howard Cook said she and her fellow "Spitfire Women" had been "incredibly brave".
Author Karen Borden, who interviewed Mrs Wadsworth for an upcoming book, added that "like many of the women pilots, she was incredibly humble about her contribution to the war effort".
"She joked about how flying 'straight and level' was her mark... and how marvellous it was to take to the air on her own."
Her son Robert said she had been "a wonderful mother, an adoring grandmother and great-grandmother", who had been "matter of fact" about her wartime service.
He said she would say that "we had a job to do [and] we just got on and did it".
Her funeral will take place on Tuesday.
Mrs Wadsworth had been one of three surviving female ATA pilots, alongside American Nancy Stratford and Briton Jaye Edwards, who lives in Canada.
Related Internet Links
The BBC is not responsible for the content of external sites.