Covid-19: Temporary mortuary being used by Norwich hospital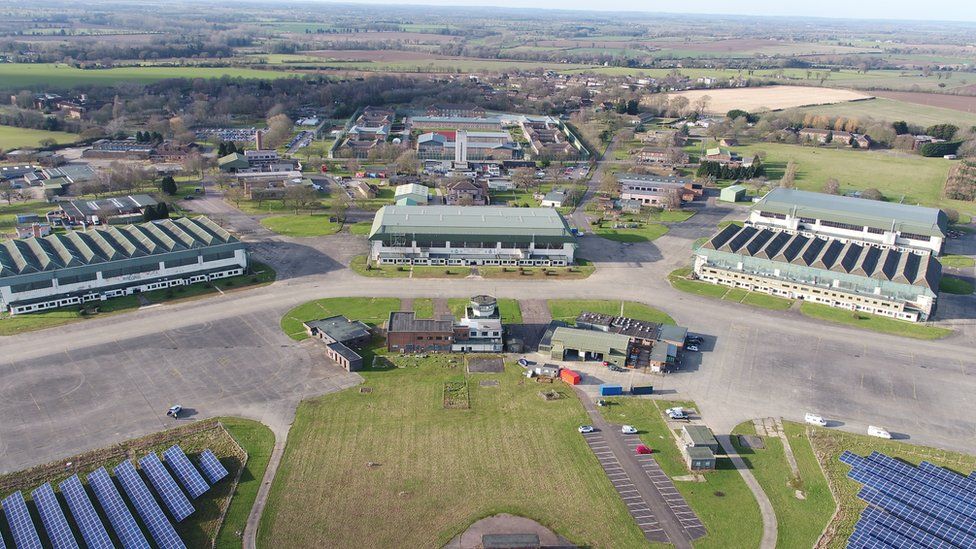 A temporary mortuary set up in the first wave of the coronavirus pandemic is being used for the first time.
The facility at the Scottow Enterprise Park, north-east of Norwich, is based at the former RAF Coltishall site and was established in April.
Although it was not needed then, the Norfolk and Norwich University Hospital confirmed it was now using the mortuary for the first time.
The facility was given a blessing by the Bishop of Norwich in April.
Tom McCabe, chairman of Norfolk's Covid-19 Strategic Co-ordination Group, confirmed it was now being used, as part of "business continuity plans".
He said: "It was always anticipated that during challenging periods there would be extra pressures on mortuaries, undertakers and crematoria.
"Anyone whose loved one is moved to the Scottow location will be informed and we can reassure people that we have a dedicated, trained team of staff who care for those who have died and been taken there."
Dr Richard Goodwin, the hospital's chief of division clinical support services, said: "Our priority is to always ensure that the deceased are treated with respect and dignity, and therefore we work with our partners to ensure every year we can use additional mortuary space, if needed."
Use of the temporary facility, which was set up by Norfolk County Council, was a result of a combination of factors including Covid-19, usual seasonal pressures and new equipment being put in its own mortuary, a spokesman added.
Its latest update confirmed 13 patients who had tested positive had died between 12 and 13 January.
All had underlying health conditions, the hospital said.
Related Internet Links
The BBC is not responsible for the content of external sites.